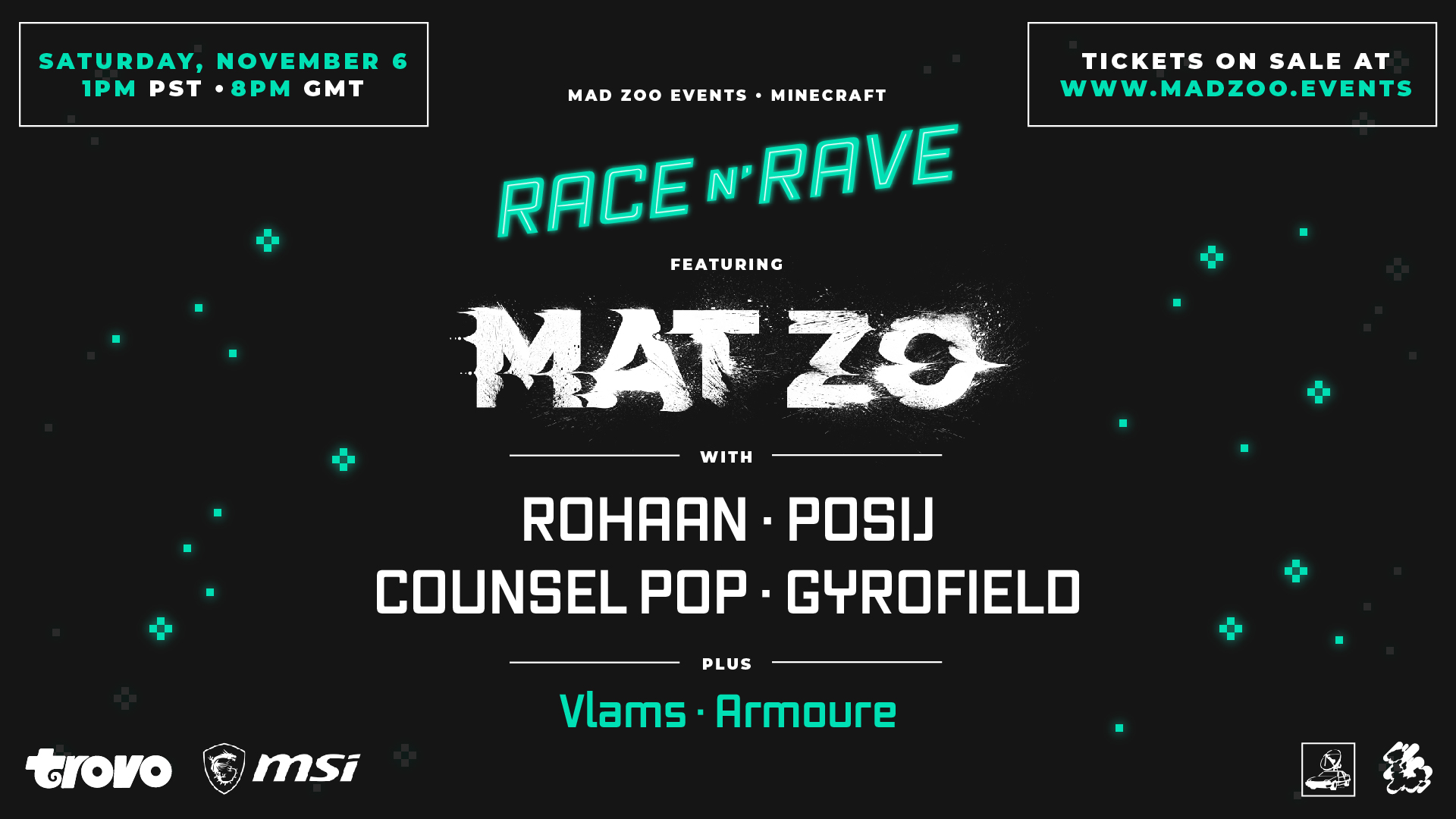 CALLING ALL RAVERS!

Mad Zoo Events is back with another unmissable, unforgettable (well, that depends - grab your beverages!) and unimaginable spectable: Race N' Rave! Join us on an idyllic race track set somewhere on the Mediterranean coast, with amazing views, burning rubber and awesome vibes!
DISCORD
Join us on Discord to receive direct and quick updates about our future shows, chat with the community and staff, and generally experience the good vibe!
Join us on Discord!
LINEUP
All times are in PDT (UTC-7:00).
ACCESS OPTIONS
Patreon VIPs+
Are you absolutely in love with the events we organize? Consider supporting us on Patreon as a VIP (or more)! As a VIP(+) supporter, you will receive access to all our future events, access to the campgrounds server where we host meet-and-greets, afterparties and other shenanigans, and more!
Find out more here!
General admission tickets
Just looking for the normal (but still awesome!) Mad Zoo Events experience? Click the button below to purchase a general admission ticket!
Purchase general admission ticket!
VIP admission tickets
Not quite ready for the full-on experience but you still want to see what the campgrounds fuss is about? Grab yourself a VIP admission ticket to gain access to both the main show and campgrounds.
Purchase VIP admission ticket!
Campgrounds access
Do you want to get a taste of our exclusive afterparties and play vanilla survival with the community? The campgrounds are for you! You won't be needing to go out on your weekends anymore - we've got you covered with exclusive events and more!
Get campgrounds access!
₱etros
₱etros, our in-game currency, let you buy all sorts of things from drinks to *ahem* "event-enhancing substances"! Do you want to take your experience up to the next level? Cop some ₱etros and see for yourself!
Purchase 64 ₱etros!